Why domestic couples? Why not engage other areas of household staff such as butlers, or chefs, or housekeepers, or estate management or chauffeurs? With a Domestic couple you have a team of two people and between them they are responsible for many facets of household duties which can cover all the roles mentioned above.
With a domestic couple you get a unit who are already a team with all-rounder skills that can manage the household duties seamlessly. It's a unique category of private staff Rather than hiring an army of staff who could make your household feel crowded, a domestic couple can take on multiple roles. Of course this is dependent on the size of your household and how the time dedicated to tasks is managed and this may not suit every situation, but the couple can allow your household to be just that; yours.
With a range of skills on offer from a domestic couple, it is important the consultant understands which skills the household want to be implemented in their home.
Rather than just packaging up a couple in to basic roles such as housekeeping, cooking and childcare for the indoor duties and gardening, house maintenance and driving for the outdoor duties, we appreciate these are the necessary requirements to all households but which one makes your home your home? Is it a family home and childcare is essential above all others, or do you like to entertain and would prefer a domestic couple who can cook and look after your guests accordingly? Maybe your manicured garden is the apple of your eye and you need someone who can tend to that while maintaining the rest of your household to high class standards?
Whatever it is that makes your home unique to you, our aim is to take take the time in understanding your household and find the right couple to suit your dynamic.
And it works both ways.
Our dedicated couple's desk means we can take the time to understand what makes up the unique dynamic of the candidates we meet and register. By having the time to not only research the skills of the domestic couples, we can also begin to understand their dynamic and find suitable placements that suit their strengths and life style preferences, such as urban or country living for example.
As every household is unique, so is every domestic couple; they come with a range of skills, experience and knowledge unique to them. Understanding the market rate for such a variety of household requirements can sometimes be overwhelming, especially if it is your first time using a domestic household staffing agency. Obviously what you are willing to pay is dependent on many facets such as the size of your household, the degree of experience wanted and hours worked, for example.
It is important to be mindful that the private service industry often work based on net salaries; that is the take home pay after tax. To try and make this simple, we have broken down the pay structure into three sections, again being mindful of the household requirements.
As of the time of writing this article (August 2022), we would recommend the three stages of pay for a domestic couple would be:
Starter couple
This is generally a domestic couple with over a year's experience of private household service or a couple who is moving from working on private yachts and moving into private households. We would recommend a salary of £700 - £800 net per week for the couple. This is also dependent on the various household requirements already mentioned.
Standard couple
This is the industry standard and is generally a domestic couple who has the required five years' experience sought by private households with a multitude of skills and those with specific skills, such as dinner party cooking. We would recommend a salary of £900 - £1000 net per week for the couple. This is dependent on the various household requirements already mentioned.
Management couple
This is a domestic couple with many years' experience between them in all aspects of domestic service and have had some experience in formal households. They are not only able to take the hands on duties when required but also able to manage all the requirements of multiple households and estates. They will arrange every single need from staffing, paying household bills to arranging all the household and social schedules and at times, business schedules of the Principals and their family. We would recommend a salary for a management couple to start at £1,000 net per week minimum and rising depending on experience and the various household requirements already mentioned with the typical rate being around £1,200 net per week.
We would strongly recommend that each couple are paid as individuals.
A domestic couple is definitely not a two for the price of one. They are a unit of two individuals, each with an all-round skill set that combined can cover a multitude of tasks in every household and when compared to employing the equivalent individuals to manage the same tasks, it certainly offers value for money.
At Marshall Harber, we are in the position to take the time to ascertain your household requirements and what makes your home yours, understand our candidates and their lifestyle preferences to ensure we offer the right suggestion to make each dynamic work. Contact one of our consultants to discuss your requirements.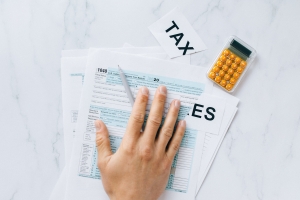 Income tax can be complex at the best of times but there are a few simple elements that both employers and employees need to be aware of when it comes to the matter of 'employed' versus 'self employed' status.
This article is written In a bid to try and clear up some of the confusion surrounding the difference between PAYE earnings and being self employed in the private staff setting. It is not uncommon for domestic staff, particularly cleaners and housekeepers, to be registered as self employed. This can make sense particularly for part time cleaners with more than one place of work. They essentially manage their own time and hours and can therefore be considered self employed. It's also appealing for people employing the services of these individuals as this means they can avoid the need of setting up formally as an employer with HMRC, managing a payroll and issuing payslips etc. This is particularly useful if you only require a part time cleaner for a few hours a week or on an ad hoc basis.
There are however considerations of which you need to be aware. Generally speaking, as an Employment Agency and due to the fact that we recruit permanent members of staff to be employed directly by clients, it is unlikely that any of Marshall Harber's candidates would be able to operate on a self employed basis, even candidates seeking part time positions. We regularly receive requests from client's and candidates to source or recruit for roles that would suit a self employed person. But the primary issue is that our clients provide us with a job spec to recruit. Part of this job spec is to establish the working days and hours for the role and as soon as the employer is dictating days and hours for a permanent member of staff, the candidate must be considered as employed and there is actually a legal obligation on the employer to operate PAYE in these circumstances regardless of how many hours it is for. There is a test available on the UK Gov website (at the time of writing this article) where you can establish whether someone should genuinely be self employed or not. The online questionnaire can be used by both employers and employees and it can be found here: https://www.tax.service.gov.uk/check-employment-status-for-tax/disclaimer (Link correct at time of posting)
Of course there are many employers of domestic staff that are not using an agency to recruit and they are completely flexible on the time the candidate works for them and may even book the hours week by week on an ad hoc basis directly with the candidate. Alternatively using cleaning companies is another way to engage self employed candidates. They must also be content for the candidate to send someone in to work on their behalf on any days that they are not available. These fundamental traits would all result in the candidate being considered self employed, however these are not generally the conditions and requirements that are presented or acceptable by clients using a Domestic Employment Agency and therefore any candidates (even if they have worked self employed previously) that we represent will need to be happy with working on a PAYE basis and to have their hours dictated by a permanent contract.
There are other elements to self employment to be aware of but we have touched on one of the most common things that employers of domestic staff can misunderstand, particularly when sourcing the staff via an agency.
For employers that find the prospect of setting up as an employer and managing payroll daunting (and we totally understand why), there is no longer any need to fear this aspect of employing staff. Marshall Harber are affiliated with a company called Stafftax. Not only do they make payroll easy, but they actually specialise in payroll for domestic household staff and nannies. The packages they offer are very reasonably priced and depending on what level of service you require, they can not only setup your employer account with HMRC and prepare monthly payslips, but they can even process all the payments to your employee and HMRC on your behalf and manage your workplace pension scheme. So there is really nothing you need to be concerned about other than enjoying the benefits of employing a permanent member of domestic household staff. Clients of Stafftax will also enjoy an added benefit of having access to their HR & Legal helpline as well as access to their employment contracts and advice on drafting these.
If you would like any more information about this service or you would like to discuss your requirements with one our consultants, please call us on 0207 938 2200. You can also view further information about Stafftax and their services on their website: https://www.stafftax.co.uk/