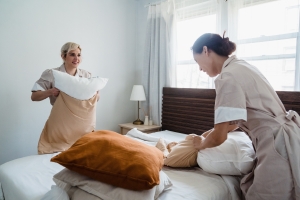 There are two primary divisions in the private sector when it comes to staffing. We would describe these as "permanent employed staff" on one side and "ad hoc" or "cleaning agency staff" on the other. There are fundamental differences that will affect both candidates and clients and one person's situation may suit one type of agency over the other.
"Ad hoc" or "agency staff" are employed directly by the agency and they bill the client on an hourly or daily basis. The agency fees are built into this hourly rate along with the wage amounts. This will suit clients that do not wish to employ permanent staff directly or do not have the facility or desire to operate payroll and have sporadic need for domestic staff. For example a 'Spring deep clean' or end of tenancy cleaning. Or perhaps you only need help for a couple of hours per week. However there are limitations to consider, particularly as the cleaning staff will be working in your private home and if you require full time, permanent cover it becomes less cost effective in the long run. Typically these types of businesses are cleaning agencies or catering and butler agencies that offer their services to one off events. One consideration is that you cannot choose your housekeeper/cleaner in this arrangement. You request the hours/days that you require and the company will send whichever of their cleaners or chefs/butlers are available at that time. This can be a far more cost effective route for many clients and it is absolutely our recommendation for short term temp or ad hoc staff and particularly if the staff is required on short notice.
When it comes to permanent staff, this is really Marshall Harber's area of expertise. In these situations the staff are only represented by the agency and will ultimately be employed directly by the client. We will make these introductions and recommendations for staff by sending their CV's and any other relevant information about the various candidates to our clients. The client then has the opportunity to Interview the applicants and depending on the role and candidate availability, potentially conduct trials before making any recruitment decisions. You have access to a recruitment consultant who will also offer professional advice and guidance to you throughout the process. Agencies like Marshall Harber do not charge for their services up until the point of offer. We are aware of some agencies charging their clients a registration fee before they even start work but this is not an activity that we engage in. Right up until the point where the client is happy with the selection of CV's received and is ready to proceed with making an offer, all of our services are free of charge and carry no obligation until an offer is made and accepted.
These two types of businesses are split into two categories and defined by the Conduct Regulations as follows: "Employment Agencies" (that's us!)
and "Employment Businesses" (that's the temp/ad hoc companies).
This probably sounds unnecessarily confusing and truth be told we find the language used to differentiate between these businesses to be a little ambigious. That being said, it is useful for both clients and candidates to be able to discern between the two.
Marshall Harber will always try to make an accurate assessment of your individual needs and if we feel that we aren't going to be the best or most cost effective solution, we will be straight forward with you about that.
If you are looking for household staff or perhaps you're seeking your next domestic vacancy, please do get in touch and we will be very happy to discuss your requirements in more detail. You can speak to a consultant today on 0207 938 2200
For candidates looking to register with the agency and find work, please take a moment to read through our candidate information page which can be found here. https://www.marshallharber.com/candidates
The Housekeeper is at the centre of all staffed houses. Whether it be part of a domestic couple, or part of a team in a formal household. Perhaps they operate in a combined role of Housekeeper/Nanny or Housekeeper/Cook. In any private household employing domestic staff, this particular category of staff is integral.
Finding the right housekeeper for the right job can be a challenge. A housekeeper needs a lot of skills and qualities in order to really succeed in the role. Whether you have an informal family home and only someone for a couple of days a week, or you have a larger more formal setup and you want a dedicated staff member on hand at all times, using an agency that specialises in household staff will significantly ease the process.
Choosing the right housekeeper can take some time, and you need a recruitment agency that can provide you with the best possible candidates. A housekeeper can perform a wide range of duties, from laundry and cooking to running errands, organising the home and supervising other staff if required.
Our consultants have a good understanding of how difficult it can be to find the right person for the role. Whether you'd like to hire a housekeeper, a chauffeur, an estate manager, chef or a cleaner, the team at Marshall Harber will be happy to assist you finding the right candidate for your needs and your environment.
If you are looking for your next Housekeeping job, please visit our Job Board to view all currently available vacancies.