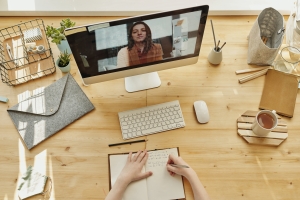 Recruiting private household staff now often involves conducting initial interviews over a video call. The pandemic has made most of us reasonably proficient and familiar with various video calling applications such as Zoom, Teams and FaceTime.
The benefits to this in recruitment are clear. It saves both the client and candidate a great deal of time as well as potentially unnecessary costs. This is particularly relevant if the candidate and client reside in different countries.
That being said, interviewing is a skill in of itself and doing this over video adds another layer to this perishable skill set. Some people are more comfortable than others when it comes to attending a video interview. We have put together some tips and helpful information to help you navigate this process successfully.
The first thing that we recommend is to practice. You may want to try recording yourself a few times to assess how you appear on camera. Are you coming across clearly? This can really help with refining your delivery and may even benefit your face to face interview technique.
The next thing that is vitally important is to prepare ahead of time. Things to consider will relate mostly to the device you intend to use. Make sure to think about the following:
Internet connection. Is it stable and fast enough to conduct an effective call? Is anyone else in the house using the internet in a way that could affect your call or slow down the connection?
Which software will you be using? There are many platforms available but once you know which one is being used for the interview, make sure you are familiar with it. Conduct a test call with a friend of family member ahead or time and become familiar with the process of joining and ending the meeting.
Think about location. This will affect both the way you sound and look. When making a test call, check things like the sound levels of the microphone, the camera angle and the lighting. These things are all very important in a video interview. Can the interviewer ckearly see and hear you?
Avoid conducing the interview in a noisy or busy environment which will affect sound quality of the call.
Have a neutral background to avoid any unnecessary distractions.
Consider what to wear. This is just as important as attending a face to face interview and a video call should not be an invitation to let these standards fall by the wayside. Look smart and well presented as if you were attending in person. Avoid wearing overly bright or dark colours as these can affect the camera exposure. Toned down colours work best.
Think about the camera angle and position. Adjust your seating so that you are not too high or low in the camera frame.
When interviewing over video there are other benefits that may not have been possible in a face to face interview. Have a copy of your CV in front of you so that you can easily recall information about your work history. You can also have a list of the key points or questions you would like to remember to address or discuss. Have these off camera where they are easily viewable to you.
The same fundamentals for face to face meetings still apply. Be engaged and make eye contact. Come prepared with questions about the role to illustrate your interest in the position you are applying for. Keep your answers to the point and think about what you want to say ahead of time.
We hope that this information will help you in successfully conducting a stress free interview and wish you all the best with your next one!
If you are interested in viewing some of the domestic household staff vacancies we have available, be sure to visit our Job Board here.
The Housekeeper is at the centre of all staffed houses. Whether it be part of a domestic couple, or part of a team in a formal household. Perhaps they operate in a combined role of Housekeeper/Nanny or Housekeeper/Cook. In any private household employing domestic staff, this particular category of staff is integral.
Finding the right housekeeper for the right job can be a challenge. A housekeeper needs a lot of skills and qualities in order to really succeed in the role. Whether you have an informal family home and only someone for a couple of days a week, or you have a larger more formal setup and you want a dedicated staff member on hand at all times, using an agency that specialises in household staff will significantly ease the process.
Choosing the right housekeeper can take some time, and you need a recruitment agency that can provide you with the best possible candidates. A housekeeper can perform a wide range of duties, from laundry and cooking to running errands, organising the home and supervising other staff if required.
Our consultants have a good understanding of how difficult it can be to find the right person for the role. Whether you'd like to hire a housekeeper, a chauffeur, an estate manager, chef or a cleaner, the team at Marshall Harber will be happy to assist you finding the right candidate for your needs and your environment.
If you are looking for your next Housekeeping job, please visit our Job Board to view all currently available vacancies.